benefits of subtitles in video
10 Video Editing Mistakes That Can Ruin Your Content
Apr 20, 202318 mins read
We live in a virtual world of visuals where words have taken a backseat. You can understand the benefits of flawless video content if you're a vlogger, online business owner, social media manager, or even a digital marketer. The video editing process is a prerequisite skill to learn to promote your video content and attract maximum viewers. As per Wordstream, using the digital strategy as a marketing tool can increase revenue generation 49% faster than non-video marketing. It is imperative to understand that video editing process is much more than just filming and attaching clips. For engaging video content, you must layer the graphics, text, subtitles, animations, background music, or audio. You must produce a complete package and arrange all the components sequentially to deliver your message creatively. Sounds cumbersome? You all have been there where you think you have nailed the entire video, but it isn't very reassuring when you look at the final edit. You feel the flaws but cannot point them out. Been there. But don't give up too soon because these failures are there to lift you, and I am here to help you fly across. So, if you're in a pickle and looking for a precise and comprehensive guideline on video editing tips and techniques, this article is solely for you. Regarding the most common video editing mistakes to avoid, I am your genie, and you are in safe hands. Scroll down, find your solutions, and forget your problems!
Why do You Need to Edit You Videos?
Before I preach about all the dimensions of video editing techniques, errors, and processes, let's examine their importance. Editing a task might not look as important to some people because it is not apparent. The "behind the scenes" work makes a video pleasurable. The video editing process can turn a simple clip into a reliable marketing instrument, enabling them to attract customers and reduce churn. Without an organized video editing process, the video will look like a crowd of lost buffaloes without sense and delivering no message.
Which Common Video Editing Mistakes to Avoid?
Video content is meant to be engaging, entertaining and wholesome. So, stop making these common video editing mistakes they are ruining your content and pushing away the traffic from your website-webpage/social media account.
#1. Poor Organization
Your mind must be clear about the project you are working on. It might sound boring, but having a proper plan and organizing your files is the basis of a well-made video. It would be best if you found the basic answers within yourself about the video. This practice will save you time and hustle. Most people consider this as an additional time-consuming process. That is one of the most common video editing mistakes they make, and eventually, they find themselves needing help in the video editing process. Would you dare to go into a dense jungle without a clear map? No, right?
#2. No-Break Editing
In a hurry or greedy of working in a flow, most video editors tend to make their video editing sessions too long. They often forget to take a break to ease their eyes and nerves. This mistake directly impacts their health and productivity. You need to work, take a break, hydrate yourself, repeat, and break a leg! Fatigue can never produce creative content.
#3. Not Watching Own Content Keenly
One of the common editing mistakes is not giving themselves enough time to watch their content again. Video editors who only watch their content occasionally tend to overlook their blunders which eventually slip into the final draft. Trust yourself in this. You can be a great judge for yourself.
#4. Poor Time Management
I know video editing processes are quite sluggish. There are millions of different little tasks to be taken care of. That's why you must design a proper timeline and follow it religiously. This way, the video editing process will be smooth and less painful, and you can quickly meet your given deadlines. Win-Win!
#5. Effects Overused
Adding graphics, effects, and animations is part and parcel of video content budding from any genre vlogs, films, drama, digital marketing, or a documentary. They unarguably don't let the viewers get bored. But overuse of the creative elements might not be a delightful sight for the viewers. Moreover, this video editing error makes you fail to deliver your message to the audience.
#6. Favoritism towards Unnecessary Clips
I understand your attachment to each second when you design or shoot a video. But when you edit, you must delete the clips that do not match the whole content vibe regardless of your feelings. It is a pro tip to have a neutral and critical eye during the video editing process.
#7. Using Unsuitable Music
Any song can be perfect for your content only if it matches the vibe of your video. No matter how much you love Bruno Mars, if his song does not complement the visuals, please discard it. Here is a tip: I prefer using an instrumental instead of a lyrical song. This trick will help the viewer focus on the content rather than be distracted by the song's lyrics.
#8. Not Adding Subtitles
Video editing errors include ignorance of adding text and subtitles to the video content. Subtitles can provide the audience convenience and generate organic traffic for the creator. However, manually adding subtitles or using an outdated tool can make the process a considerable headache. Fortunately, free and efficient video editing tools are available online that enable you to have the whole video subtitled within minutes in a few clicks!
#9. Lesser Focus on Graphics
Graphics are the additional visual elements inserted to amplify the content quality. It is emphasized that visuals make a significant impact on the viewer. However, out-of-proportion graphics can distract viewers from your content and the video's primary purpose. Keep them steady and straightforward.
#10. Out of Sync Audio
Common video editing mistakes are easily noticed and heavily disturb the audience. Even after perfecting everything, if something does not feel right, that's the out-of-sync audio! This mistake can often occur in the video editing process when video chunks are moved around the project timeline.
8 easiest video editing tips and techniques that can boost your content
First, you must know how to make a video, then move to the video editing process. The video editing processes might sound tiring or tangled but let me give you a step-by-step manual as a bundle of video editing best practices. It is simpler than you think. Here you go!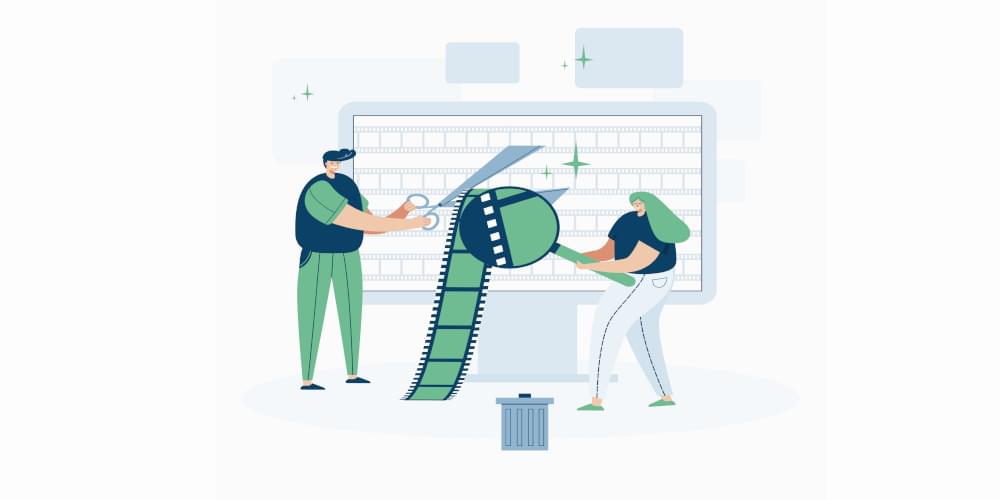 Step 1: Organize your Files
Before diving into the video editing processes, you need to take reasonable time to brainstorm and create a mental visual of the final product you need. The experts recommend it as one of the video editing best practices as it clears up the fog and helps you swim in the right direction. This step requires you to question yourself:
What is the target audience?
What is the reason for the video?
Enlist the creative elements required. Animations, graphics, background score, etc.
How is your editing going to influence the target viewers?
Lastly, what needs to be edited? So you don't over-edit.
Step 2: Assemble the Clips in Desired Order
Recording a video takes a lot of work. It includes hundreds of tiny chunks of snippets to be arranged in order. Get in the director's chair and categorize the clips according to the mind map you created in the first step. Don't lose focus, question your vision, and trust the process.
Step 3: Slice, Dice, Chop, and Saute
Now is the actual editing phase. Initially, cut the silences or clips with unnecessary content. Keep it nice and clean. If you are filming an unboxing video of your new product, you can skip the boring parts of it and can quickly move to the fun part. If you are filming yourself, cut out the fillers like "uhs, uhms" to show confidence. Sometimes, your video is too long, and you fear less audience engagement. You can use automated video creator to take out necessary chunks and make another video quickly.
Step 4: Add Text/Subtitles
The most crucial step in the video editing process is adding subtitles to the video. It is too important to be skipped. It adds volume to your content. It is like actually inviting people to watch your video. It gives that homely feeling to the audience. Subtitles are a great way to make your voice heard regardless of your accent or language. You can insert captivating text at the beginning of the video as you know, the first 30 seconds of a video are always decisive.
Step 5: Fix Video Sound and Add Music
Adding music to a video is like adding life to an object. A piece of scary music behind a horror scene can enhance the frightening feeling in an audience. Moreover, add music to your video to balance out uneven background sounds. Similarly, you need to identify the tone and vibe of your video content and pick a soundtrack accordingly.
Step 6: Sort out the Color Gradient
For creating an engaging video, the choice of colors can have a significant impact. If music touches the soul, colors touch the eyes and mind. They are carefully chosen following the content genre and target audience. That is why kids' videos are filled with bright colors and objects, whereas corporate videos are mostly in neutral tones.
Step 7: Time to Sit and Watch
This is the triumph phase, where you finish the basic video editing process. This step is the key to finding the overlooked errors during video editing. Congratulate yourself, get a notepad, popcorns and start watching the entire video you have created. Make notes while watching and rectify them later together. Forward your content to some people in your circle who can provide honest feedback. A pro tip: watch the video again after a few days with a fresh mind, and you will be amazed to see how many mistakes got overlooked.
Step 8: Save and Export
Hurrah! Export the file and make sure to choose the correct format that is supported by the platform you want to upload on. Have a backup of the video on your computer or a hard drive. Exporting takes time, depending on the video's length, so get a coffee and relax.
Video Editing Tips and Techniques No One Tells You
Audio Check Hack: To check your background audio or the vocals, close your eyes and listen with deep concentration. If the audio feels off, you must fix it despite the flawless video clip's appearance. This hack will keep your mind away from visuals and help you focus entirely. The Frame Choice: Having a perfect recording frame is more effortless than editing the frame later. You must check the entire frame, the subject, and the supporting objects in the frame before you start recording. Keep Every Bit of it: While editing the video, never delete anything entirely only remove it from the final draft. A particular snippet might not fit in this video, but it can be an excellent catch for another one. Organization tip for you: Name your video clips and keep them in their folders to reduce the hustle later during video editing process. Thank me later!
Tried and Tested Tools to Avoid Video Editing Mistakes
The video editing process can become an uphill task if the correct editing tools are not utilized. Moreover, manually adding texts and subtitles can amplify the risks of errors. Therefore, I got you a few tried and tested tools to make your video editing processes more manageable and effective.
SubtitleBee
Generating the subtitles automatically with a few clicks, with great accuracy, and in over 120 languages - yes, SubtitleBee does it all! You don't need to gain any technical knowledge to use it. It has a user-friendly interface and a straightforward process. To try out the SubtitleBee auto video subtitle generator, you must create a free account and upload your video content. You don't need to worry about downloading heavy software that might affect your PC's performance, as it is a browser-based tool. It provides you a free hand to correct the words, change the font style, color, or size and add headers to enhance your video message. So, with SubtitleBee, you can get the nectar from the flower! Yes, I am talking about the revenues.
Animaker
Product descriptions have become a challenge in an online market, calling for creativity and clarity. Animaker is a solution for that. It can create fantastic and engaging animated videos in lesser time. Nowadays, animated videos of product descriptions are the new cool in the online business industry. These short and fun animated videos are gaining millions of views worldwide. They can be a tremendously catchy introduction to your product if displayed on your website. They can attract new users, and they can learn about the product quickly. It is excellent for any business type. It can also generate interactive presentations for a business proposal.
Animoto
Animoto is at your service if you intend to maximize content engagement. This tool is not free yet affordable. Its monthly plan begins at $8/month. It also provides a free trial so you can check its performance. It displays sample videos from which you can choose your desired template. If you want the template to match your brand's color, they are easy to change per your needs. Animoto is a flexible tool that lets you edit the timing, audio, voice-over, and texts. This tool is a speedy way to create catchy video visuals. It is perfect for social media platforms where you can generate organic traffic with these attractive videos.
Stupeflix
Stupeflix is a beginner's tool and easy to use. It does not have advanced and complicated features. It is best to start with. If you intend to make short videos on trending topics and want them to go viral, this tool is for you! It provides you with a list of themes to choose from. It lets you have a full preview before you decide to choose. Once your required template is finalized, it edits your video accordingly in a few minutes and helps you with all the editing labor. It is indeed the simplest tool to use. It is like a pocket tool you must have. It helps you generate great content on a budget!
Moovly
Moovly is yet another trusted video editing tool that provides a free trial of 30 days. You can openly explore the tool. Once satisfied, you can buy a plan for only $5/moth. It is an ideal tool for generating marketing videos. This tool is slightly complicated as compared to Stupeflix. But the best thing is that it provides a high level of customization and gives you an open ground to experiment with various icons, animations, and graphics. What I love the most are their high-quality animations that can be used as a background. Moreover, you can voice-over to the given characters in a descriptive video. What fun! With basic knowledge of video editing tips and techniques, Moovly can be an ideal tool to test your creativity.
It's a Wrap!
After reading this, I hope the video editing process will not be a headache for you anymore. By avoiding the common editing mistakes, your half work is already done! A balanced video using an appropriate editing tool like SubtitleBee can set your video content bar much higher than your competitors. Focus on the correct techniques, and you are good to go!
Add and translate your subtitles to more than 100 languages with high accuracy