video tutorials for social media
Which Is The Best Vlogging Kit For Beginners?
Jan 19, 202320 mins read
Vlogging has become a supreme form of content, especially to promote products and to build brand identity. Thanks to video editor for vloggers, people in business like to communicate their business message through videos instead of writing content. Therefore, video content has become more engaging and effective in reaching potential customers and promoting businesses. The good news is that video editing tools such as vlogging kits are relatively inexpensive and offer multivarious benefits that can help you create content to promote and make your videos viral on all social media and digital platforms.
What is a Vlog?—Why people are so obsessed with making videos?
A vlog, or video blog, is a type of blog that uses video as the primary medium. Vlogs are incredibly popular, and they're a great way to connect with your audience on a personal level. A business vlog is a video blog that covers topics related to your business or industry. Vlogs can be educational, entertaining, or both. They allow you to show your personality and build relationships with your viewers. Vlogs are also an effective way to showcase your expertise and promote products or services. They can help increase brand awareness and trustworthiness, as well as drive more traffic to your website. Vlogs can be a great addition to any marketing strategy, as they provide a unique platform for engaging with customers and prospects. Ultimately, the key to making a successful vlog is to create content that is interesting and entertaining. Focus on creating videos that are informative and entertaining, while still being relevant to your industry or business. With the right approach, you can create engaging videos that will help build relationships with your audience, boost engagement, and drive more sales.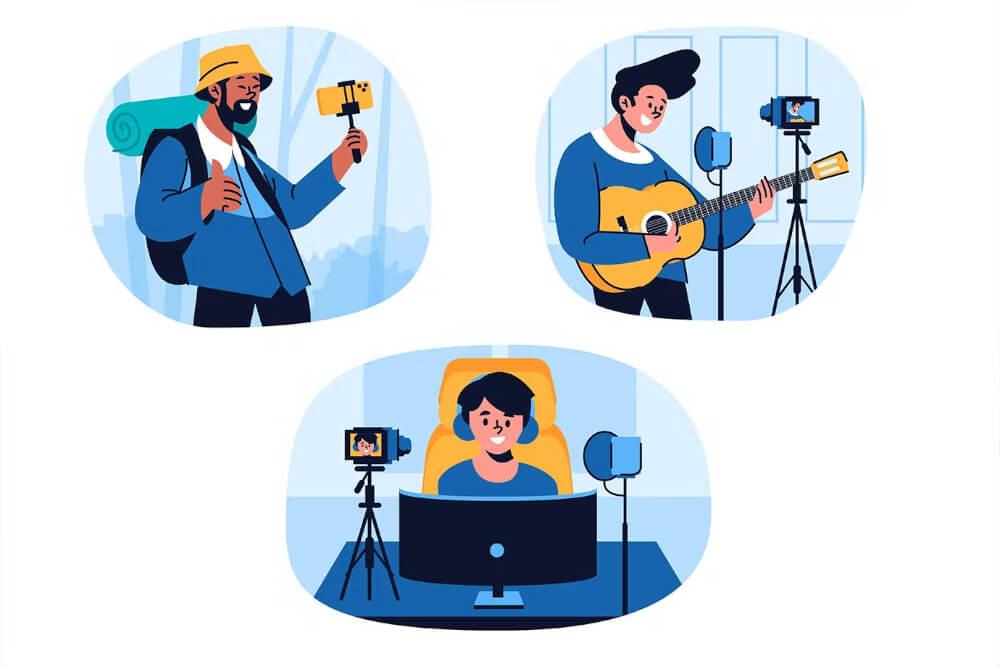 Vlog vs Blog— What you should choose?
Blogs are typically cheaper and easier to produce than vlogs, but they may not be as engaging for some audiences.
Vlogs are more expensive and time-consuming, but they can be more engaging and provide a more personal touch.
Here are some things to consider when deciding whether a blog or a vlog is right for your business:
Audience: Who are you trying to reach with your content? A vlog may be more effective if you're targeting a younger audience. A blog may be more effective if you're targeting an older audience.
Topic: What type of content do you want to create? A blog may be a better option if you want to create long-form, in-depth content. A vlog may be a better option if you want to create shorter, more visual content.
Budget: How much money are you willing to spend on production? Vlogs can be more expensive to produce than blogs, so a blog may be the better option if you're on a tight budget.
Time: How much time are you willing to spend on production? Vlogs can take longer to produce than blogs, so a blog may be the better option if you need more time.
Why start a business vlog?
There are lots of reasons to start a business vlog. Maybe you want to build brand awareness, drive traffic to your website, or create content that will help you rank in search engines. Or maybe you just want to connect with your customers and give them a behind-the-scenes look at your business.
Most of the entrepreneurs want to achieve faster results. Therefore, they tend to focus on video content to promote their products and business image. Advanced technology backs up the most incredible things happening in the technology field; therefore, nowadays, we have so many incredible tools available on our hands to make videos in minutes and hours instead of weeks and months.
Whatever your goals, a business vlog can help you achieve them. And with more than 500 million hours of video watched on YouTube every day, there's a huge audience out there waiting to be engaged by your content.
There are many benefits of vlogging to market your business.
Vlogging is an engaging way to reach potential customers. People are likelier to watch a video than read an article or blog post. And if your vlog is exciting and informative, viewers will be more likely to remember your company when they need your products or services.
Video content is a great way to build trust with potential customers. When people see you and hear you talking about your business, they will get a sense of who you are and what your company is all about. This can go a long way in building relationships with potential customers.
Choosing video content is a great way to show off your products and services. If you have a product that interests your viewers, you can show it off in a vlog. This can be a great way to generate interest in your products or services and get people talking about your company.
Videos are a great way to stay on top of mind with potential customers. If you regularly produce engaging and informative vlogs, viewers will begin to associate your company with quality content. This can help you stay top of mind when people are ready to make a purchase.
Vlogging is a great way to connect with other businesses. If you interview other business owners or include them in your vlogs, you can create valuable connections that can help you grow your business.
Tips to create engaging business vlogs
If you're thinking of starting a vlog for your business, there are a few things you need to keep in mind. There are some tips you can follow on creating engaging business vlogs that will help you boost your brand awareness and reach your target audience.
1. Keep it personal—make your business story stand out.
With fierce competition surrounding you, keeping your products and business agenda personalized, and original is essential. Keeping it more personalized will make it easier for your customers to identify your business goals and the uniqueness of your products.
When creating a vlog for your business, it's also important to keep it personal. Let your viewers get to know you and your team, and give them a behind-the-scenes look at what goes into running your business. Your viewers want to see the human side of your business, so don't be afraid to show your personality.
2. Tell the legacy of your business in the most authentic way.
Authenticity is essential for building a strong brand image, especially in creating video content. Viewers can spot inauthenticity from a mile away, so if you're not being genuine, they will not stick around.
Your audience may only watch your videos if you are authentic to your cause. You can give product reviews, use facts and figures, and the words that speak for the authenticity and honesty of what you are promoting. It is essential to gain the trust of your audience in the virtual world. And if you want to promote your virtual business via digital and social platforms, you must give authentic solutions to your audience's problems.
Be yourself, and let your unique business personality shine through in your vlogs.
3. Keep it short and sweet—brevity is the soul of keeping the audience engaged for more time.
When it comes to vlogging, less is more.
No one wants to watch a long, drawn-out video, so keep your vlogs short and sweet. Aim for around 2-5 minutes per vlog, and get to the point quickly. If you have a lot to say, consider breaking your vlog up into multiple parts.
4. Visuals, visuals and more visuals!
Your vlog doesn't have to be Hollywood-quality, but it should be visually appealing. No one wants to watch a blurry, shaky video, so make sure your vlog is well-lit and focused. If you can, invest in essential video equipment like a tripod and a microphone. This will help you create higher-quality vlogs that are more enjoyable to watch.
5. Promote your vlogs—if you don't sell it well, it's not worth the effort!
Once you've created your business vlogs, promoting them is essential. Share them on social media, email them to your subscribers, and embed them on your website. The more people see your vlogs, the more likely you will reach your target audience and boost your brand awareness.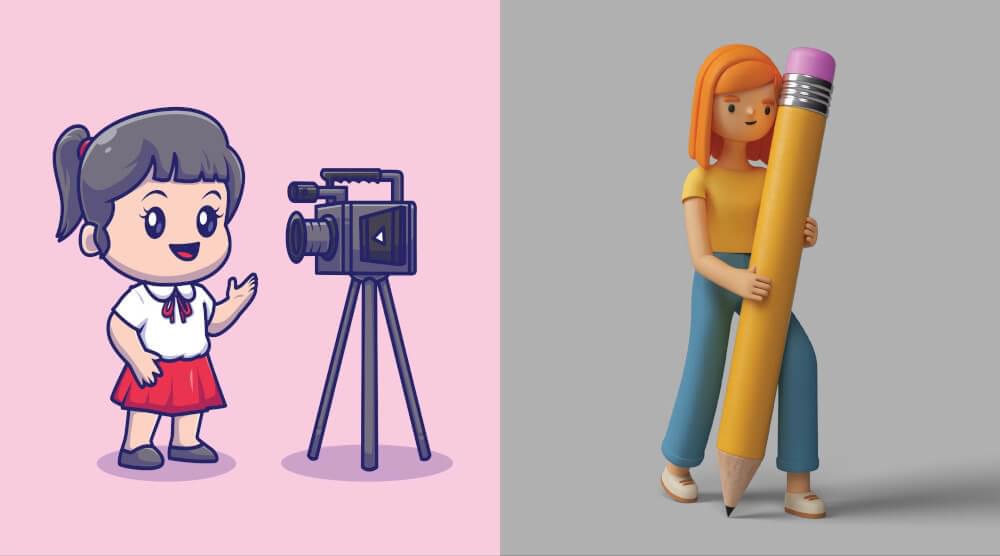 What do you need to start a business vlog?
There are a few things you'll need to get started with your business vlog:
A topic: Choosing a topic was a challenging thing to do. It can be simple for businesses to choose a topic about their products and brand message. It can be about new product launches, features, discounts, and super offers. More importantly, you can choose a topic that addresses the real-term problems of your audience, so you better keep the topic asked close to the problem so that you see the topic and decide to watch your whole video.

A title: Your title should be catchy and descriptive so people know what they will watch when they see it in their feed.

A script: Once you have a topic, it's time to start writing your script. This doesn't have to be perfect – you can always edit it later – but it should give you an idea of what you want to say and how long your video will be. If you're unsure where to start, try looking for examples of successful business vlogs on YouTube or other video-sharing sites.

A camera: You don't need an expensive camera to start a business vlog – your smartphone will do just fine. If you want to upgrade later on, consider investing in a DSLR or mirrorless camera with good video capabilities. Make sure you have a tripod, so your videos are steady and easy to watch.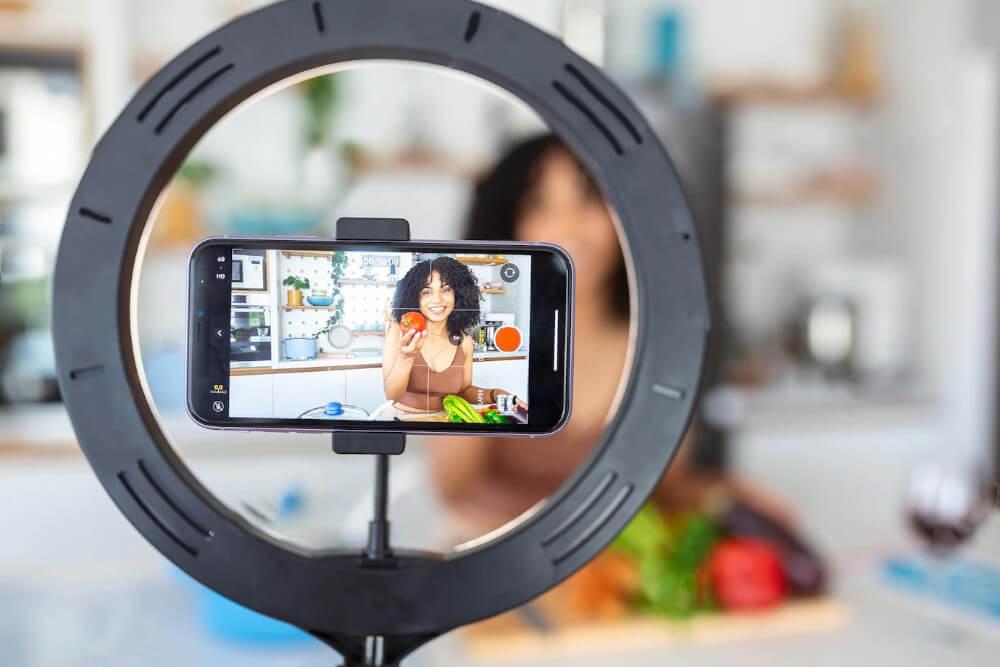 A microphone: Good audio is essential for any video, so investing in a good microphone is essential. Just ensure the microphone is positioned close to the person speaking, so their voice is clear and easy to hear. Many great external microphones will plug right into your phone if you're using your smartphone to film. Using an adapter, you can also connect an external microphone to your camera for better-quality audio.

Lighting: Good lighting can make a big difference in the quality of your video. If possible, film during the day near a window so there's plenty of natural light. If you're filming inside, try using lamps or overhead lights to brighten up the room. And avoid filming in front of a bright light source like a TV or computer screen – it will make your footage look washed out.

A quiet place: When you're filming, try to find a quiet place where there won't be any background noise that will interfere with your audio. Turn off any fans or air conditioners before you start filming.

Editing software: Once you have your footage, it's time to edit it into a cohesive video. There are lots of different editing software programs out there, both paid and free. If you're just starting out, try using iMovie or Windows Movie Maker – they're both easy to use and have all the basic features you'll need. As you become more comfortable with editing, you can upgrade to more advanced programs like Adobe Premiere Pro or Final Cut Pro.

Add captions and subtitles: Adding captions and subtitles in videos always served a greater purpose. In the past, people used to hire 3rd party services and expensive tools to add captions, and still, it was as much an effort-prone task as adding it manually. You had to advise your teams to do multiple reviews to check spell checks, grammar mistakes, jargon words, and their correct usage. In short, adding captions and subtitles was a tough job.
Thanks to the technology powering up incredible tools such SubtitleBee, that is helping humanity to access helpful information. With the help of SubtitleBee, you can add subtitles and captions within minutes with a 99% guarantee of its accuracy. Only some people speak English, so you can add subtitles in 120 plus different languages. Now you can maximize your video's outreach in multiple regions. Adding a subtitle-generating tool to your vlogging kit wouldn't be expensive for you; it would make your job more seamless, speedy, and up to level.
List of the best vlogging kits for beginners:
Are you a beginner looking for the perfect vlogging kit? Look no further! Here's a list of the best kits available on the market today.
1- Sony zv1 vlogging kit: This kit is a great option for vloggers just starting out. It comes with a 20-megapixel 1" sensor, 24-70mm f/1.8-2.8 G OSS lens, and built-in mic. This makes it perfect for those who want to produce high-quality content from the start.
2- Sunpak vlogging kit: This kit is perfect for those who want to get started without breaking the bank. It includes a 24-megapixel CMOS sensor and a 15-45mm lens, making it ideal for capturing landscape shots or shooting vlogs from further away.
3- Canon vlogging kit: This kit is great for vloggers who want to take their content to the next level. It includes a 24-megapixel APS-C sensor, 15-45mm lens, and built-in Wi-Fi. This makes it perfect for sharing your content on the go.
4- Goviral vlogging kit: This vlogging kit is perfect for those who want to take their content to the highest level. It includes a 20-megapixel APS-C sensor, 18-55mm lens, and built-in Wi-Fi and Bluetooth. This makes it great for sharing your content with others quickly and easily.
5- Vlogging kit for iphone: This kit is perfect for those who want to get started with vlogging on their iPhone. It includes a 12-megapixel camera, 8x zoom lens, and a built-in microphone. This makes it great for capturing high-quality videos without having to invest in expensive equipment.
No matter what your budget and needs are, these are some of the best vlogging kits available on the market today. Whether you're just starting out or looking to take your content to the next level, these kits will help you get there!
Benefits of using a vlogging kit:
There are many benefits of using a vlogging kit to market your business. From helping you create stunning visuals and captivating soundtracks to allowing for smooth transitions between scenes, countless benefits come with investing in a quality vlogging kit. Here are five ways that vlogging kits can help take your content to the next level:
Professional Quality Visuals – With an advanced vlogging kit, you'll be able to produce videos with superior picture quality and dynamic visual effects. This will make your videos look more professional and attract more viewers.
Improved Audio Quality – vlogging kit comes with advanced audio features that allow you to create rich soundtracks for your videos. This will help ensure that viewers can hear the dialogue and music clearly, enhancing the overall viewing experience.
Easy Transitions – With a vlogging kit, it's easy to transition between different scenes without disrupting the flow of your content. This makes it easier for viewers to follow along and helps keep them engaged throughout the entire video.
Time-Saving Features – Many features in vlogging kit are built-in such as auto-editing and one-click effects. This can help you create content faster, allowing you to focus on the creative aspects of your project rather than spending hours in post-production.
Cost Savings – Investing in a quality vlogging kits can save you money in the long run by eliminating the need for expensive software or hardware upgrades. Plus, there are plenty of affordable options available that provide professional quality results without breaking the bank.
Why vloggers need to start using SubtitleBee
Vloggers are always looking for ways to increase their viewership and build a larger audience. SubtitleBee is a great way for them to do just that! With SubtitleBee, vloggers can easily add subtitles to their videos, giving viewers who don't speak the same language an opportunity to understand what's going on. This can help vloggers reach a wider audience and gain more subscribers, not to mention making their content accessible to those with hearing disabilities. SubtitleBee also has some great features that allow vloggers to customize the look of their subtitles, so they can make sure they match the style of their videos. With SubtitleBee, vloggers can easily improve their videos and make sure that everyone has the chance to enjoy them. So what are you waiting for? Try SubtitleBee today and start building your fanbase!
Wrapping-up:
Investing in a high-quality vlogging kit isn't expensive anymore. Seeing the benefits video contact can offer your business, consider dedicating a budget to vlogging kit and begin with generating as much good video content as you can. As the study shows, if people want to survive their business in the future, they should start generating good quality content and market it well.
Adding SubtitleBee to your vlogging kit gives you multiple benefits.
Transcribe your videos into 120 different languages.
Convert your vlogs into blogs with the help of subtitles and captions.
Maximize the outreach of your videos by adding multiple languages and SubtitleBee is the perfect choice to help you with that.
If you want to add quality-oriented captions and subtitles, you should not look anywhere else but to choose SubtitleBee.
If you care about time and money for quality content and promote your business with it, SubtitleBee can also help you with that. Pick from flexible subscription plans that are well-suited to your needs.
Add and translate your subtitles to more than 100 languages with high accuracy