video tutorials for social media
8 Steps to Creating Engaging Online Learning Videos
Sep 28, 202116 mins read
Replacing your lectures with effective online learning videos, not just to engage your classroom students to bring students globally to your platform, requires lots of undertakings. Therefore, tech-led education putting thorough efforts to empower teachers and content creators to spread quality content equally to the far ends of the world.
The more empowered teachers, the more empowered learners there will be. Moreover, it opens up infinite business opportunities for organisations to create valuable content and spread a strong business message to the global economic market.
Let's discover tech-led tools that have empowered teachers and content creators worldwide. In addition, let's walk you through the methods of how you can create powerful educational video content.
1. Create a script that is engaging and interesting
Design-led strategy for quality content is very essential to grab the attention of busy and much-diverted minds of students. A well-knitted story that walks your students through the entire curriculum step by step is called an excellent script.
There are several steps you can follow to create a successful education script.
Do your in-depth research
If you are creating an education script for students, no matter of any age or grade, your target audience is merely students. Probably you are thinking too broadly. Just zoom in.
You can consult different schools/colleges/universities' curriculum before designing your script. Add your ideas, experiences, and practices along with the curriculum. No matter how well-versed in the curriculum is, it lacks uniqueness and in-depth observations if your personal inculcations are missing.
2. Make sure your online learning video is short enough to hold the viewer's attention span
It is essential to decide on a narrow educational focus for your educational content. It works better for memory retention activities if they focus on 1 to 5 key takeaways. Such as highlighting the primary things you want your audience to remember and you should add them as core objectives.
The study research shows, the average student can focus on a lecture or educational video for 5 to 10 minutes before their attention is diverted. More often their attention would grow more wane if the environment is too distracting or too boring.
Staying close to your primary key points and keeping the video short can enhance the attention level of the students. More often, students are unconvinced about being lectured directly, and keeping the narrow focus on key points can greatly prompt them towards learning.
Keep videos short—don't stray from your original outline!
3. Be creative with your shots - use different angles, close-ups, and camera movements
Video content can utilise miscellaneous perspectives that allow paramount creative flexibility to generate valuable content and deliver a useful message.
Online learning videos have the leverage of expanding the message beyond the screen by engaging students with other different video stuff available on other social media platforms. This will help you make your content more relatable and shareable.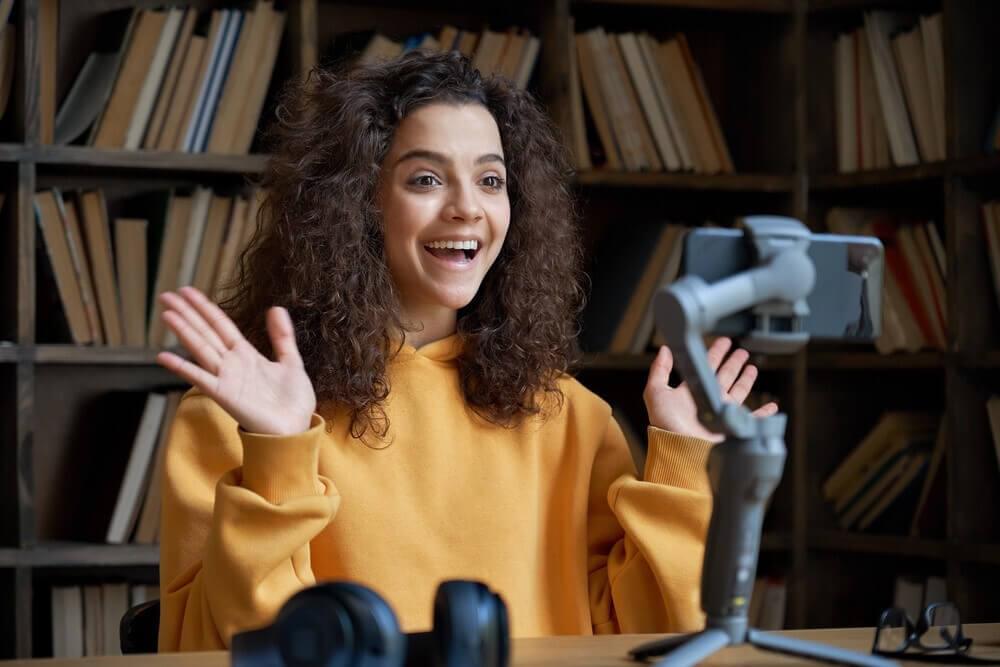 There are several camera techniques that can be used such as positioning the camera from different angles to capture the record the speaker from unique positions. Seeing the person from the front like newsroom view can bore the audience away in less time.
Location, location, and location…
Your workplace or soundproof room at your home is the best place to record your video. You can adjust your background according to the theme of the educational content. Flat background can be boring for students.
Try shooting some outdoor scenes for a change, like walking to beautiful natural scenery or sitting by the window. Using virtual backgrounds is a great help to content creators, saving their time and efforts.
Write talking points for each slide before recording; this way you can focus on making eye contact with the camera instead of reading off slides.
Avoid overdoing your online learning videos, such as using wacky music, weird fade-ins, and spinning transitions, or using editing software that makes your videos corny. Better, leave this thing to professional help. For instance, use professional tools to make your videos creative, effective, and productive.
4. Use graphics or animations when appropriate to add interest
Adding animation and 3D motion graphics to your educational videos is a significant plus. There are several professional software that can do the job for you in a matter of time and that won't cost you like breaking your bank.
The research study shows the students of any age or grade are more attracted to animated stuff than random conventional online learning videos.
Besides adding extra spice, it will greatly help you maintain your creative edge of educational video.
5a. Add captions for viewers who are deaf or hard of hearing
The research study shows that over 7.5 million people only in the UK use subtitles and captions and 1.5 million among them suffer from hearing impairment.
Moreover, the use of subtitles has been significantly increased as more and more audiences watch videos on smart devices and phones.
Over 85% audience on Facebook doesn't feel comfortable watching videos with sound and they prefer to scroll through videos just by reading subtitles.
Imagine watching a video with some wacky music and an awkward accent while taking breakfast at your dining table. At least expect your mother to give you an awkward glare and will probably judge you for the sort of content you see on social media.
Deaf and impaired hearing people are lucky to exist in this world, where they are facilitated with subtitled learning and entertainment content and not feel left behind by normal people.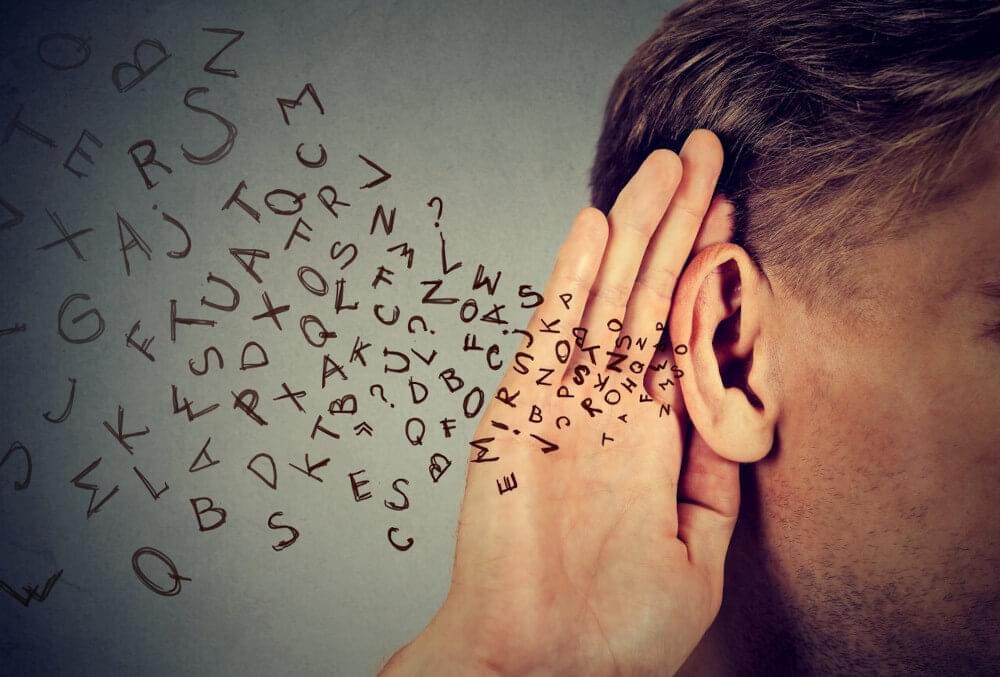 Let's get acquainted with different people who are greatly facilitated with subtitles and captions.
People with hearing impairment or face problems in understanding spoken words because of fuzziness or heavy accents.
The students with cognitive and learning disabilities who face difficulty in understanding better when they don't get to see the spoken words in written form.
The different language natives can access online learning videos through translated subtitles.
What other benefits can there be if online learning videos have more accessibility?
The video content becomes valuable for loud and noisy environments.
The subtitles added to online learning videos can make content accessible to almost any loud and sound-off environment.
Subtitles are valuable for people with different disabilities, such as hearing and cognitive.
Subtitles are so useful for people who face difficulty in understanding the language spoken in fluency or rather fast to understand in a one go.
Subtitles in online learning videos are read than watched and it makes it easier and quicker for students to learn.
Subtitles, text-based content, caption files, and transcripts are indexed better by search engines
Transcribed files are useful when they are downloaded to save mobile data.
Being a content creator of any field, you might be aware of high-priced captions and subtitles.
Adding subtitles for education
Automated subtitles are not only the most accurate version of text caption but also the fastest and easiest way of making your videos accessible. Human-added subtitles are not only time taking, but they are error-prone as well. With the help of powerful automated subtitle tools such as SubtitleBee, you can pull subtitles of any language to your videos.
With SubtitleBee, you can generate subtitles to any language with 99% accuracy. Get your files ready in minutes and hours instead of days and weeks. Subtitles are the best choices to make noisy videos, heavy regional dialects, and breathy or slurred sounds understood easily.
SubtitleBee offers AI-based and automated transcription and translation services to ensure 99% accuracy in a few minutes. However, your results may vary up to 1% based on audio quality.
How to add subtitles to your videos?
It can be done in the easiest and short steps.
Drag and drop the content file from your computer, cloud, or drive.
With the click-to-action button, your video/audio will proceed to the creation of subtitles.
Now you can download your video and you can ensure the quality of the subtitles.
It just takes seconds to upload a file based on the length of the video. The creation process for subtilisation for education would also take a few minutes. Subtitling hundreds of video lessons has become a matter of a handful of time.
5b. Include subtitles in other languages for non-English speakers
Translating videos and audio are no more obstruction. Intelligent technology has made it possible to get your content translated into almost any language. There are certain ways you can get your online learning videos translated. Either you can transcribe it into the desired language, subtitle it, or get the voice-over of the desired language. Once you have a transcribed file in your hand, you can attach the transcribed file with the video. The smart voice-over software will closely read out the transcription or subtitles to create a voice-over.
Getting the voice-over in 100+ different languages is made easy, cheaper, and seamless with SubtitleBee.
How can you use SubtitleBee to convert videos to text files?
SubtitleBee is the cheaper solution for the educational organisations, healthcare sector, and every other business to get high-quality translated text files in a matter of minutes.
SubtitleBee carries an automated speech recognition program to read closely to all aspects of spoken language, including intonations, speech algorithms, context, and stress, to create a perfect video to text converter.
SubtitleBee is an enterprise's choice because it can translate and transcribe the text files into 100+ different languages. For any other outsourcing tool, translating into different languages may cost you higher. The wider audience you will have, the more likely you can bag the token of appreciation from all over the world. By clicking over the language of your choice, you can grab the translated files in a matter of minutes.
SubtitleBee will cost you 3X- cheaper than any outsourcing tool. Moreover, the spell check and QA support ensure your text is error free.
Additionally, SubtitleBee has a user-friendly interface and is most friendly to subtitling and translating your videos.
6. Use text captions and ensure students know how to use them
You can use prompts if your online learning videos don't show captions automatically. The best way to show your students the captions is by referring them to tools in your lesson plans, syllabus, and web interface of LMS. The captions serve a useful purpose if people know how to use them.
Eventually, you may want to take your virtual education accessibility efforts to the next advanced step by using SubtitleBee tool services to get your videos subtitled into different languages that are within the reach of a few clicks. SubtitleBee helps you reach the students of different cultures, regions, and languages across the globe.
7. Try adding transcribed text files
Transcription files help students in many great ways. For instance, you don't need to skim through the whole video lesson for revision or references. By reading the text file, you can go through the information in minutes. For other circumstances, such as unavailability of the internet, traveling, low-power mode, or continuous revisions, you need a quality text file.
With the automated transcription tools available at hand, like SubtitleBee, transcribing online learning videos just takes 5 to 10 minutes.
With advanced technology powering everything, SubtitleBee's transcribing services ensure 99% accuracy.
Some of the transcription tools take one day to deliver back transcribed texts. These are human-based transcribed files. They are the best choices when the video has a noisy background, different regional accents, or slurred sounds.
AI-based automated transcribing tools just create transcription files instantly. It's a cheaper and quick method to grab on transcribed content in 5 minutes with the guarantee of 90% accuracy.
How can you transcribe your files instantly?
The first step typically involves drag and drop of the files from your computer, drive, or cloud.
After pressing the click-to-action button, the transcribing process begins.
In the final step, you can collect your text files by downloading them.
Use transcription files in your lesson.
Once the text file is ready, now you can attach it with the original video of the Lesson Management System of your choice. The top learning management systems support the alignment of text captions and videos. Students may want to print out transcribe text files or can use them to enhance note-taking.
8. Making online educational content accessible and searchable
With technology backing everything, the future of the more advanced accessibility of educational content far across the world will never stop. With the SubtitleBee you can take your accessibility efforts to the next advanced level to meet the need for high-quality content, and generate value outcomes.
SubtitleBee is an SEO-friendly tool, helps you market online courses on google's top list. As the more accurate and original content is, the more likely it will have more outreach to a meaningful audience. The translated and subtitled videos can create a huge online exposure on social media and websites,
Some important closing insights
The above are some popular accessibility choices to make your online learning videos thrive on a global scale. The top priority is to deliver value and deliver it fast.
When it comes to wider accessibility of educational content, it's no wonder SubtitleBee shows an astounding potential to deliver valuable outcomes and productivity. It is significantly helping the educational, healthcare, and business sector enhance their performance far across the globe. Furthermore, it has played the frontline role of serving organisations from all over the world, delivering value to their students at a faster pace.
Try out a 10 minutes free trial to grab high-quality subtitles for education courses.
The coexistence of subtitles, translated texts, and close captions together are the real quality and beauty that serves the meaningful learning experiences to students. And a stellar SubtitleBee helps you achieve it altogether.
Add and translate your subtitles to more than 100 languages with high accuracy