benefits of subtitles in video
How AI Can Transcribe Medical Records Online?
May 15, 202313 mins read
What is Medical Transcription?
Are you a healthcare provider in need of an efficient transcriber? Or do you want to become an online medical transcriber? What do you know about medical transcriptions? Why are they so important in the healthcare sector? Or what if the rumors about AI revolutionizing medical transcription services are true? Don't worry. AI is not your competitor in fact, a great aid. Let's discuss how these prevalent AI technologies can help you transcribe medical records online more quickly and efficiently. Stay tuned!
Medical transcription services involve converting voice reports dictated by healthcare professionals and physicians into written format. Hospitals often have a team dedicated to medical transcription, who receive voice files containing medical document dictations from healthcare providers. These voice files are then transcribed into text format, with the resulting medical reports typically being submitted to the hospital's Electronic Health Record (EHR) or Electronic Medical Record (EMR) system in digital form. Think of the reporter in a courtroom who you see writing everything spoken but in a medical setting.
With the advancement of technology, speech recognition software and medical transcription software are now widely used in the medical industry to aid in transcription. Medical facilities such as clinics and hospitals require medical transcription services frequently. SubtitleBee is an AI-supported medical transcription software that provides medical transcription services that can help you manage this need.
If you are a medical transcriber, SubtitleBee can be your buddy bee! Find out more about this medical transcription software with me.
A Brief Origin of Medical Transcription Services
The origin of medical transcription can be traced back to the beginning of the 20th century when doctors depended on stenographers to take notes as they did not want to maintain their records and could dictate their notes using shorthand. The introduction of typewriters during this time led to a significant technological advancement, and doctors started using them to create legible transcriptions instead of shorthand, which was often difficult to read.
This trend continued until handheld voice recording devices and word processors were invented, which became the norm for producing medical transcriptions. The medical industry uses more advanced technologies, such as speech recognition software, for audio-to-text transcription. These AI-based technologies have revolutionized medical transcription services.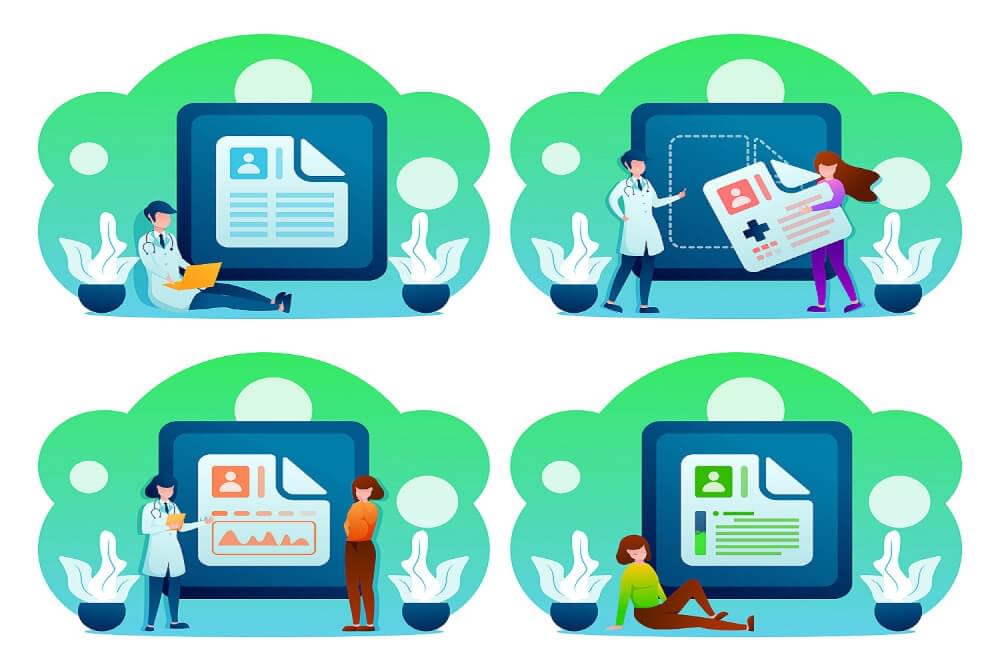 Why Transcribe Medical Records?
Doctors, nurses, and therapists often use handheld recorders to dictate patient reports to prevent misinterpretation of data and medical errors. These reports must be typed in a standard format, and medical transcription software must transcribe several types of medical reports. Here are some examples:
History and Physical Reports: This report details the patient's medical history, symptoms, and physical examination findings. It is usually the first report created when a patient is admitted to a hospital or clinic.
Consultation Reports: This report is created when another physician or specialist asks a physician to evaluate a patient. It provides an expert opinion on the patient's condition and recommends a course of treatment.
Operative Reports: This report describes a surgical procedure performed on the patient, including details such as the type of surgery, the instruments used, and any complications.
Discharge Summary Reports: This report is created when a patient is discharged from a hospital or clinic. It summarizes the patient's hospital stay, including the reason for admission, treatment received, and recommendations for further care.
What Duties are Involved in Medical Transcription Services?
Medical transcription services entail more than just sitting and typing healthcare professionals require several day-to-day duties from their transcribers. These duties include:
Transcribing the Voice Recordings of a Patient's Medical History: When discussing your medical history with a healthcare provider, the conversation may be sent to a medical transcriber who will convert the spoken dictation into a written format that can be used for diagnosis and treatment. It is vital to accurately transcribe medical records, as they play a crucial role in ensuring proper care. Nowadays, many healthcare facilities and transcription teams rely on speech recognition, transcription, and AI software to streamline the process and reduce the amount of manual work involved in the position.
Interpreting Medical Information and Formatting it in Notes and Reports: Although transcribing a conversation may appear straightforward, it's essential to consider the medical context of the recordings. The use of specialized medical terminology and anatomy involved in healthcare requires a high level of knowledge that the average person may not possess. Therefore, medical transcribers must possess in-depth knowledge of these terms and pharmaceutical topics. In addition to having this knowledge, they must be able to precisely interpret and format this information into various formats such as notes, reports, records, and summaries. AI software, such as SubtitleBee, enables you to edit and format medical transcriptions per your requirements. Trust me, SubtitleBee makes your job as a medical transcriber easier.
Freedom to Edit Medical Transcriptions Online
Medical transcribers play a critical role in ensuring the accuracy and effectiveness of medical reports. Although speech recognition software can automatically transcribe conversations and recordings, transcribers must carefully review the resulting text to ensure that the reports' formatting, terminology, and overall structure are appropriate for patient care. This may involve making minor adjustments or paraphrasing to improve interpretation.
By carefully reviewing and making necessary changes to reports, transcriptionists ensure that all medical system components work together effectively. Doctors and nurses can easily access and refer to patient reports, transcribers can use the software without issues, and patients receive the best possible care.
AI technologies, such as SubtitleBee, allow professional medical transcribers to edit and review the medical transcriptions manually. Have faith, as AI can help solve complex problems and improve software efficiency in countless ways.
The Future of Medical Transcription
Advancements in Technology are Shaping the Future of Medical Transcription: Electronic health records have transformed how patient records are documented and managed, significantly reducing the need for manual transcription. Doctors can now directly enter patient information into their systems, and transcribers will likely assist this process using medical transcription software.
The US Bureau of Labor Statistics predicts a 7% decline in medical transcribers' jobs by 2030 as the healthcare industry increasingly adopts medical transcription services and software to increase cost-efficiency. While this poses a threat to transcribers, the human touch will always be needed in the process.
Instead of seeing these technological advancements as competition, we should view them as aiding medical transcribers. AI will likely become even more integrated into medical transcription services. As the demand for accurate and timely care grows alongside an aging population, the need to transcribe medical records will expand.
The Importance of Skilled Medical Transcribers in the Age of Advancing Technology: It is essential to be mindful of the medical transcription industry's current challenges and how they may evolve over time. Cybersecurity breaches and data privacy concerns are significant threats to patient data, especially with electronic health records. However, SubtitleBee ensures complete data security.
In general, the future of medical transcription services will be shaped by the advancement of AI transcription technology and the ongoing need for accurate medical reporting. As healthcare evolves, medical transcribers must remain informed, educated, and skilled in modern technologies and tools to stay relevant. A futuristic tip for you: Keep learning, keep growing, and keep up your pace with the prevailing AI.
5 Reasons to Choose SubtitleBee to Transcribe Medical Records
How to transcribe medical records that are fast, affordable, and accurate? This question might boggle your mind because it poses many challenges for medical transcription services. Trust SubtitleBee for your transcribed medical records online in minutes.
Data Security: Maintaining the utmost confidentiality is one of the primary objectives of SubtitleBee. By selecting SubtitleBee, you can rest assured that the information contained in your recordings will remain secure. It guarantees that your patients' information and work-related data will be protected against potential breaches.
Accuracy Level: Accurately storing information is the primary objective of transcriptions, especially in the medical field, where even minor errors can significantly impact overall performance. SubtitleBee offers 99.9% accuracy and lets you manually edit the result to ensure an error-free outcome.
Affordability: SubtitleBee provides a free trial for you to explore the browser-based software. Its medical transcription services come at a reasonable price. It offers competitive rates that you and your clients will love. See the affordable packages yourself.
Professionalism and Expertise: SubtitleBee can help you anytime with the medical audio recordings you upload. This Medical Transcription Software can offer you the quality you will hardly find in other transcription software. SubtitleBee is a professional medical transcribing software that guarantees to generate the bulk of quality-oriented transcriptions in a few minutes.
Fast Medical Transcriptions: SubtitleBee ensures fast delivery. It transcribes your medical audio files in minutes. Size or duration does not matter once this Bee starts buzzing.
3 Easy Steps to Transcribe Medical Records With SubtitleBee
If you're a medical transcriber or aspiring to become one and looking to try out transcription software, consider giving SubtitleBee a try. SubtitleBee is an online speech-to-text converter that lets you import recordings and generate transcriptions. As a medical transcriber, this software could save you considerable time and simplify your job.
You can perform medical transcription in SubtitleBee in just a few easy steps. Run a demo transcript to see for yourself!
Step 1: Choose your desired language to transcribe medical records from a list of up to 120 languages.
Step 2: Upload or drag and drop your audio file recording. It will start transcribing automatically.
Step 3: Edit manually and export in your desired format, quality and can add your logo in this step.
With electronic health records becoming increasingly prevalent in the medical field, automatic transcription software can alleviate the workload for medical transcribers and allow for more efficient handling of electronic health records.
Why Is Medical Transcription in Such High Demand?
The medical and healthcare industry is a vast business taking care of hospitalized patients and maintaining daily reports can be cumbersome. Accurate speech-to-text conversion is essential for all these critical documents and reports, but in-house transcribers may need to help maintain accuracy when transcribing quickly dictated recordings. Furthermore, doctors may need to help transcribing audio to text due to time constraints and the required level of attention. To overcome these challenges, hospitals and healthcare providers can outsource their high-volume transcription needs to a professional medical transcription service like SubtitleBee. Such AI software is available in the market and always prepared to provide accurate and timely medical transcription services.
Let's Wrap It!
You should now have a better understanding of the responsibilities of being a medical transcriber, as well as the steps involved in becoming one. Medical transcription may be an excellent option if you're seeking a career that allows for flexibility, advancement, and the possibility of working remotely. If you're already working as a medical transcriber and have yet to experiment with transcription software, consider giving SubtitleBee a try. The free basic plan is available for testing and can help you quickly transcribe audio recordings.
FAQs
What is the best tool to transcribe medical records?
SubtitleBee is the best transcription tool to avoid hiring professional transcribers. We have automated transcription software that will let you accurately and quickly transcribe your recordings.
What equipment is needed to transcribe medical audio files?
When using SubtitleBee, you only need your audio or video recording, browser, and internet connection! You can automatically transcribe your voice recordings in minutes.
How long does it take to transcribe medical audio files?
SubtitleBee is designed for speed and accuracy, but the automatic generation of transcripts will depend on the length of your video or audio recording. It usually takes half the length of your recording - a ten-minute video will take less than five minutes to transcribe.
Add and translate your subtitles to more than 100 languages with high accuracy