benefits of subtitles in video
How to Translate Spanish Video to English with Subtitles
May 12, 202313 mins read
Do you understand the importance of video content? Do you want your business to have a global reach? Do you know about the spectacular growth of the Spanish language? But, got no time to learn? Looking for a Spanish video translator? See, I can read your mind. Relax while I give you a smooth tour of how to translate Spanish video to English in minutes, free of cost and with 99.9% accuracy. Before we jump in, let's peep into the significance of video content in this globalized online world, shall we?
Adding video content to a website can enhance SEO and increase conversion rates and sales. Incorporating videos can improve search engine rankings by elevating page quality and prolonging visitor engagement. Wyzowl is an animated video production company that suggests that video content is a valuable tool for helping potential buyers learn about a product, and 96 percent of marketers value video as an "important part" of their marketing regime. Brands who aim to excel can no longer ignore video marketing, as the average time spent by audiences watching videos online reached 19 hours per week in 2022. Video marketing can, therefore, improve customer acquisition costs, increase page quality, and prolong the time visitors spend on the page. Isn't that all you need?
Besides the online business realm, video content remarkably makes its mark on social media. A video is a powerful storytelling tool that can effectively explain any topic. It is a versatile and diverse medium for communication and marketing, offering a personal touch that can leave a lasting impact and create a loyal fan base. Videos can also help to build confidence, trust, and authenticity. Social media platforms favor video content, with the potential for 5x more engagement and 20x more shares. Moreover, YouTube has emerged as the second most popular website after Google. See the video magic there?
When creating video content that reaches a global audience, translation is the key. With 7.9% of internet users being Spanish, it is unsurprising that many businesses and organizations seek to translate Spanish video to English. According to Cervantes Institute 2022, the number of native Spanish speakers has grown to 500 million, elevating to 595 million if non-native speakers are added. A lot of people, right?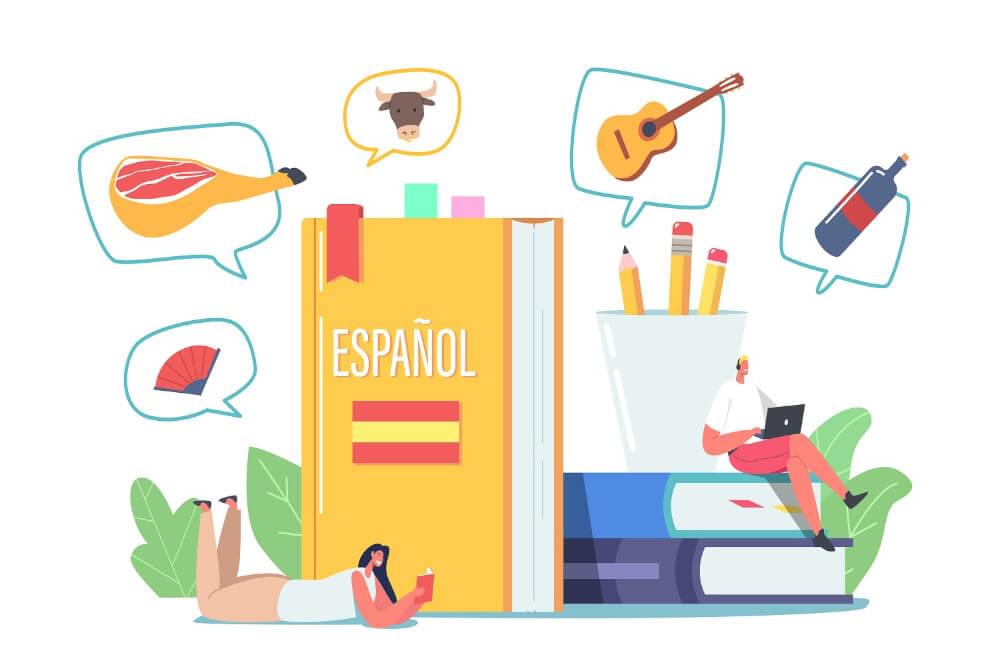 Jaw Dropping Facts about Spanish Language You Didn't Know
Be ready to shock yourself with the rapidly growing popularity of Spanish language.
Spanish on the Web: More than 70% of Spanish-speaking countries' population has Internet access. Spanish is the second most used language on most digital platforms, such as Facebook, LinkedIn, YouTube, Twitter, Wikipedia, etc. It is high time to learn the process of Spanish to English video translation.
Popularity and Growth: Native Spanish speakers comprise 6.3% of the world's population. Spanish ranks fourth among the most widely spoken languages globally, after English, Mandarin Chinese, and Hindi. Furthermore, by 2060, the United States is expected to become the second-largest Spanish-speaking country globally, after Mexico, with 27.5% of Americans projected to have Hispanic origins.
Economic Influence: Spanish-speaking internet users, who make up 7.9% of the total, have a combined purchasing power that accounts for 9% of the world's GDP. If the Hispanic community in the United States were a separate country, it would have the world's seventh-largest economy, surpassing that of Spain and France. The countries where Spanish is the official or majority language contribute 6.2% to the world's GDP. Additionally, Spanish is the second most crucial language in the language tourism industry.
International Communication: Spanish has become a vital instrument for international communication, ranking as the third most commonly used language in the United Nations and the fourth in the European Union. Furthermore, approximately 40% of students studying Spanish worldwide live in countries where English is either an official or co-official language.
Spanish is quickly becoming the language that can bridge communication across multiple cultures and languages. In such a global situation, Spanish video translator can be an asset for individuals and businesses looking to broaden their global reach and engage with a broader audience.
Why do you need to translate Spanish Video to English?
I have many reasons, but let's quickly look at the four most convincing ones. Whether you are a social media influencer, an online business owner, a researcher, an online wanderer, a habitual seeker of entertainment, or looking to improve your resume, you cannot deny the importance of Spanish language.
The popularity of Spanish Media: Spanish-language movies and shows of exceptional quality have attracted English-speaking audiences and other populations. The crime series "Money Heist" went global through Netflix, and with a flawless Spanish to English video translation, its viewership exploded. Remember Bella Ciao? Spanish media is growing web content on leisure and culture, vehicles, accommodation and food services, furniture and carpets, telephones, education, home, garden equipment, and clothing sectors. Who would not wanna watch that?
Global Language: Fluency in Spanish, spoken by over 400 million people worldwide, can be a significant asset to your resume. Bilingual individuals are more competitive in the workplace and gain valuable insights that can contribute to business success. Furthermore, translate Spanish video to English to enhance the reach of your online business content, leading to increased revenue generation.
Useful for Research: Following English, Spanish is the language with the highest number of scientific papers published. Approximately 4.4% of global scientific production originates in Spanish-speaking countries. Additionally, as we age, our memory tends to decline however, learning a foreign language can help keep the mind sharp and improve memory retention.
Exposure to a New Culture: By learning Spanish and immersing yourself in it, you can develop a deeper understanding and empathy for other people and their cultures. This increased empathy can help you become a better team member by allowing you to understand and appreciate diverse perspectives on life, work, and culture. Ultimately, this can lead to stronger relationships with colleagues and improved collaboration in the workplace.
For these reasons, a good Spanish video translator comes in handy. With SubtitleBee, you can expand your translation skills and learn new phrases while producing high-quality Spanish to English video translation in a fraction of the time it would take to work with human translators. This quick and convenient experience makes SubtitleBee an efficient tool for language learners and professionals requiring accurate and timely translations.
4 Factors to Consider for a Flawless Spanish to English Video Translation
It is gonna be brief but take notes to have a perfect Spanish to English video translation of your videos!
Attention to Detail: Before you begin Spanish to English video translation, paying attention to the language variant is crucial as there are 22 countries where Spanish is an official language, each with unique characteristics. It's essential to carefully consider gender, verb conjugation, and accents to produce accurate translations that effectively convey the intended message. The ultimate goal of translation is to ensure complete comprehension, and localization plays a decisive role in achieving this.
Timing and length: Subtitles need to be timed appropriately with the spoken words in the video. However, it is essential to note that they must be long enough to convey the whole meaning and brief enough to ensure easy readability.
Font and Formatting: It is essential to mention that subtitles are formatted in a clear and legible font, with an appropriate size and color contrast for easy reading. It might not sound necessary to you at first but trust me, keep it in mind, and thank me later!
Translation Quality: Ensuring accurate translation and conveying intended meaning through subtitles is crucial. Collaborating with professional translators or availing of their services can guarantee quality and precision. However, an AI-supported tool like SubtitleBee can surpass even professional translators in delivering precise and high-quality translations.
Common Mistakes No One Talks About: There are several translation and transcription blunders you need to avoid during the Spanish to English video translation process. Tiny errors like misspelled names, poor grammar, missing key details, keywords, punctuation or capitalization, and misinterpreting phrases or idioms can ruin your video translation.
How to Translate Video from Spanish to English?
Spanish to English video translation can be a challenging task, but there are two common methods that can be used to achieve this.
Manual Method: It involves creating the subtitles manually by transcribing the audio and translating it into English. Although this method can be time-consuming, it gives you a complete control over the subtitle content.
Automatic Transcription: This method consists of automatic transcription and translation software, which uses speech recognition technology to transcribe the audio and translate it into your desired language. However, the accuracy of the subtitles may sometimes be an issue.
Fortunately, SubtitleBee is a popular choice for content creators and digital marketers who need accurate and automated subtitles. It excels at automating subtitle tasks in a way that preserves the quality of subtitles regardless of the language. With support for over 120 languages, SubtitleBee captures the syntax of each language accurately, ensuring that each word and sentence is translated correctly. Therefore, Spanish to English video translation can be done with ease using SubtitleBee.
Steps to Translate Spanish Video to English with SubtitleBee
Upload the video on that you need to translate.
Select the language to Spanish
Hit the command button, and let this Bee take care of everything!
Proofread and edit the translated subtitles to ensure accuracy.
Download and save the translated subtitle file with an appropriate name. Your Spanish to English video translation is done!
Benefits of SubtitleBee as a Spanish Video Translator
SubtitleBee is the top pick for businesses looking for high-quality subtitles in over 120 languages. It goes beyond simply translating the words and instead captures the intended meaning of the sentence. Here are the advantages of using SubtitleBee:
Time-efficient: One of the most significant benefits of SubtitleBee is that it saves time. Instead of manually typing every subtitle, you can automate the process and generate subtitles for a video in just a few minutes.
Accuracy: SubtitleBee's advanced algorithms can transcribe and time the subtitles more precisely, leading to fewer errors.
Cost-effective: SubtitleBee is an affordable alternative to hiring a professional subtitle translator or transcriber, especially for those who need to generate subtitles for multiple videos.
Accessibility: Adding subtitles to videos can make them more accessible to people who are deaf or hard of hearing and those who speak different languages.
Improved SEO: Accurate and descriptive subtitles can improve international search engine rankings of your videos, which is critical for businesses that want to attract more viewers.
It's a Wrap!
Although Spanish to English video translation can be difficult, it can also be satisfying with proper methods and resources. By following essential guidelines, incorporating beneficial tips, and utilizing reliable tools, you can successfully translate Spanish video to English. Be sure to review and revise the translated subtitles for accuracy. If you encounter difficulties, do not hesitate to seek assistance from someone who is proficient in both Spanish and English.
Add and translate your subtitles to more than 100 languages with high accuracy