video tutorials for social
2020 Best Instagram Video Size And Format
Sep 13, 202012 mins read
Nowadays, video marketing is no longer just for businesses with bigger budgets. Almost all major social media platforms allow videos to be posted to advance their influence, especially on Instagram, and it's for free. These Instagram videos have become the key to successful branding and for personal expression to update followers. That's why it is known as one of the best tools in a marketer's toolbox.
Instagram began video uploads in 2013 and quickly noticed complete success to start advertising inside the platform in 2015. 71% of businesses since then, uses Instagram to reach their targeted audiences more effectively. This platform was initially developed and started as a photo app, but Instagram has grown into a much more innovative venue that now incorporates video content in the form of Posts, Stories, Ads, and long-form video content on IGTV.
Individuals and brands have quickly learned the ins and outs of video optimization as Instagram videos become popular and commonly used. Considering Instagram was only supporting one orientation before for images and videos, all you had to complete was create content, add hashtags, and click publish. But with Instagram's newest update for the right sizes and dimensions, understanding how to optimize your videos for each format can be a real challenge.
Why do you need to invest in Instagram Video?
From super flat growth to a serious ascent, Instagram today is anticipated to have the strongest progress out of all social networks covered by eMarketer.
Users' time is estimated to rise 14% this year, which equals over 3 minutes of additional time spent by each user each day. It covers their news feed, stories, Live, and IGTV. If you have a brand you want to get noticed, you need to design the best video content to entice your viewers. But Instagram has created it easy to shoot your videos using only a smartphone and then upload them directly to the platform. Now, the only issue you could fall into is to have you the right Instagram video format, size, orientations, and other specifications. Let get started.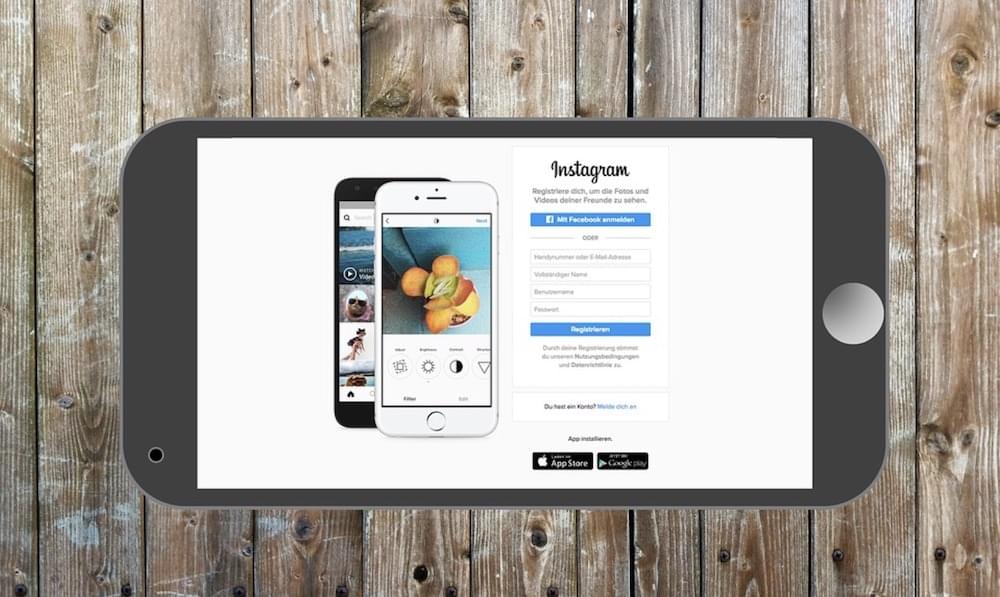 Choosing The Best Video Format
When you want to use video on Instagram, the best Instagram video format to use is MP4. But, some people claimed that the right format is the H.264 codec. The simple explanation is because both of these files are alike and closely related. It is the best video format for Instagram based practically on simplicity and accessibility.
Your video file should always have these technical specifications:
H.264 codec
AAC audio
3500 kbps bitrate
The frame rate of 30 fps (frames per second)
Video can be a maximum of 60 seconds
Maximum video width is 1080 px (pixels) wide
Videos should be 920 pixels tall
You can opt to utilize professional video editing software applications to create and export your video applying these specifications. But, if you simply require to convert video to Instagram's format, there are free converters that you can avail online.
Aside from giving an easy way to convert video content to the exact Instagram video format, it also has tools that let you make necessary edits to your videos. You can rotate, crop, resize and add music or text to your video.
Another easy way is to use an auto subtitling tool that allows you to export and choose formats based on the platform that you want your video to be posted like Instagram. We all know the great significance of subtitling and captioning your video to assist your audience fully understand your content. At the same time, it helps you to rank in search engine top pages, specifically in Google.
The Right Aspect Ratios And Video Dimensions
Some people are asking about Instagram video size, but what they really mean is the video aspect ratio. It attributes to the dimensions of the video as they relate to one another. An Instagram square aspect ratio dimensions are 2x2 or 3x3.
A rectangular aspect ratio on the other side should be something like 16:9 or, in the case of Instagram, video specs should be 9:16, which is an uncommon aspect ratio on famous film and TV.
It would be best not to say "video size" but rather "aspect ratio" to avoid confusion about the file's exact size with the video's dimensions. The correct Instagram aspect ratio relies on what you're shooting. While there's no fixed Instagram video size limit, specific dimensions and aspect ratios serve best for certain types of Instagram videos.
Here is an Infographic giving you an insight into the correct aspect ratios and dimensions for all of Instagram's video variations: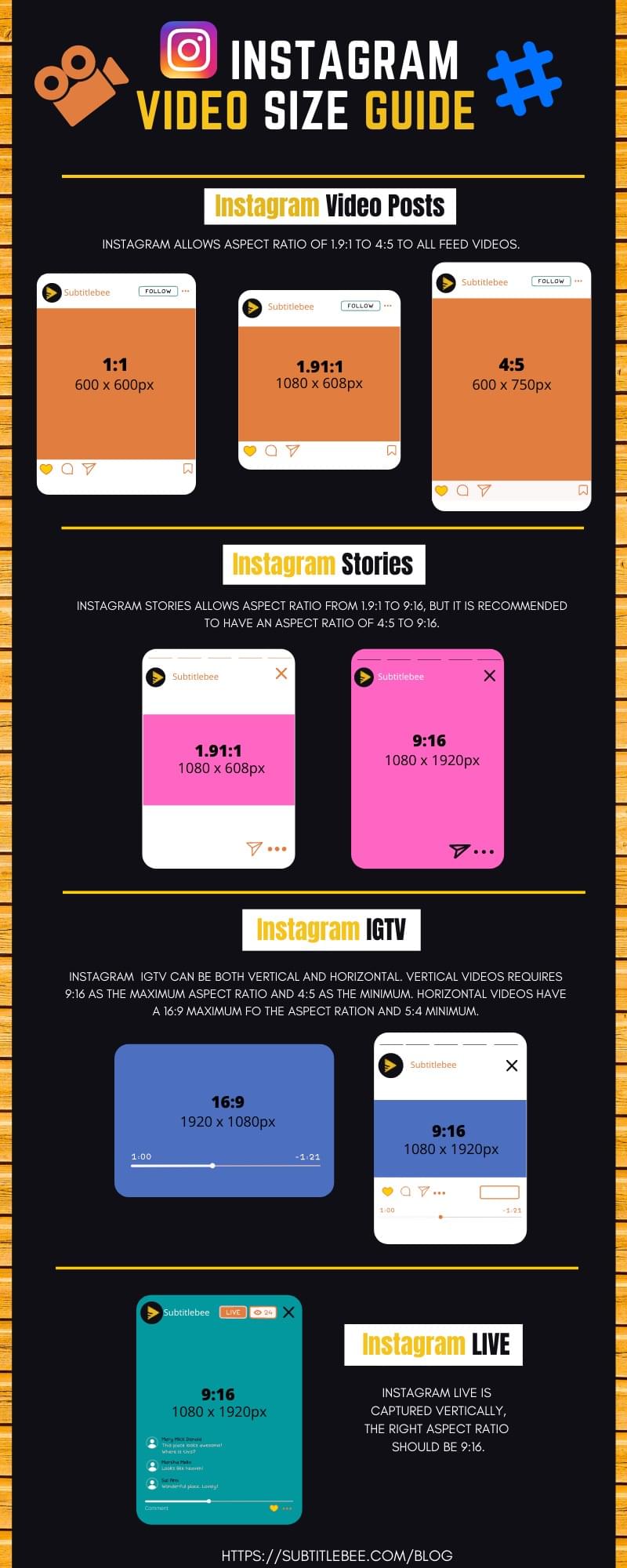 Acquiring a general idea about how the videos will look like, we'll continue with its content definition and specifications. You can as well download size templates that are available online for social media content creators.
The Four Types Of Instagram Videos
1. Feed Video
To those unfamiliar with this term, feed videos are the regular video post on Instagram. These videos are usually between 3 and 60 seconds long, presenting them the second-shortest variety of Instagram video.
And while it's unquestionably probable to begin shooting from your phone, viewers might anticipate a little more polish from Instagram video posts nowadays. After all, posts live on your profile grid in continuity, and they're one of your best tickets to gaining inclination from both Instagram inclination and your followers.
The Instagram Feed is where you can see the stream of shares and connect with the people and ideas you are interested. Every time you open Instagram, these photos and videos relevant to your chosen interest will appear on top of your feed and posts from the accounts you have followed.
Video Length: 3 seconds to 60 seconds.
Video File Type: MP4 format or MOV.
Video Resolution and Size:
Square, portrait, or landscape.
30 FPS (frames per second) minimum frame rate.
The maximum file size is 4 GB.
2. Stories
"Stories" is an Instagram feature that allows users to post photos and videos that will vanish after 24 hours. Launched in August 2016, now, there are more than 500 million Instagrammers use stories daily who are using this daily. Now is the perfect time if you've ever considered exploring with stories to boost your reach or engagement.
Instagram Stories allows you to share all the significances of your day. The feature lets you share several images and videos that will appear together in a "slideshow format." This means a reel, like Snapchat. These photos and videos will be gone after 24 hours.
Video Length: Maximum of 15 seconds per Story.
Video File Type: MP4 or MOV file format.
Video Resolution and Size:
A vertical video with an aspect ratio of 9:16.
A minimum frame rate of 30 FPS (frames per second) and a minimum resolution of 720 pixels.
The maximum file size is 4 GB.
3. Live Video
Instagram Live is another feature of Instagram that enables users to stream video to their followers and engage with them in real-time as part of Instagram Stories.
One crucial difference between Instagram Live video and other live broadcasting products like Periscope and Facebook Live is that Instagram Live video is totally ephemeral. It means that as soon as the broadcast ends, the video leaves. There are no replays at all.
Video Length: 60 minutes as the maximum time.
Video File Type: MP4 or MOV file format.
Video Resolution and Size:
A vertical video with an aspect ratio of 9:16.
A minimum frame rate of 30 FPS (frames per second) and minimum resolution of 720 pixels.
The maximum file size is 4 GB.
4. IGTV
IGTV is Instagram's newest feature and app for sharing and watching videos. The format is comparable to Instagram Stories. The only significant distinctions are that it's achievable to upload long-form content of up to an hour and that your videos won't vanish after 24 hours.
Instagram TV is available either from the regular Instagram app or from the IGTV app. On the original Instagram app, you'll view it as a TV icon in the top right of your account, and it will be highlighted if there is fresh content for you.
When you access Instagram TV, no matter which app you log into, the videos will start playing instantly according to what the IG algorithm comprehends about your browsing history.
Video Length:
Minimum of 1 minute.
The maximum range of time a mobile device uploads a video is up to 15 minutes. While the maximum length of time a web uploads a video is 60 minutes.
Video File Type: MP4 format.
Video Resolution and Size:
Should be in Vertical orientation with an aspect ratio of 9:16, and horizontal video with an aspect ratio of 16:9.
30 FPS (frames per second) for the video frame rate with 720 pixels resolution.
Within 10 minutes, file size requirement should be no more than 650MB. For files between 10 minutes and 60 minutes length must not exceed to 3.6GB.
Cover Photo Size: Should be 420px by 654px (or 1:1.55 ratio).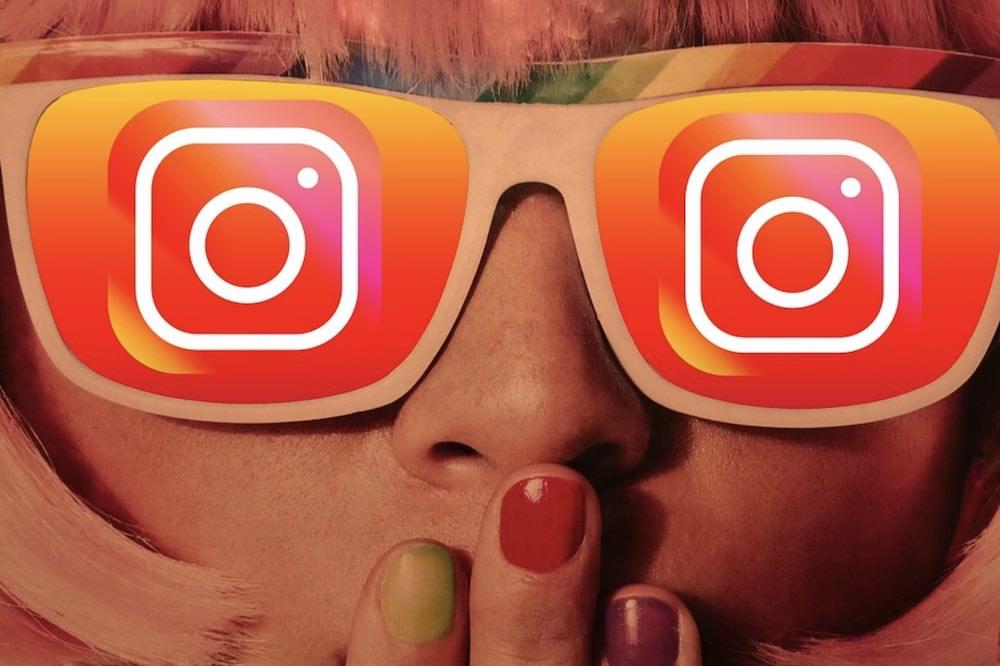 Tips to Increase Your Instagram's Video Quality
Instagram video is not that simple to accomplish with. It has gained it known that if you are aiming to have the highest quality of video on the platform, you will require to optimize the Instagram video correctly before publishing. Here are some points to remember when posting videos on Instagram:
It would be best if you connect to WiFi when posting your content on Instagram
Ensure that you are using the right video dimensions and formats.
Transfer your video files through Google Drive or Apple Airdrop, as you prefer.
Always film your videos with the best quality camera possible.
Edit your videos with the right settings.
Some file transfer methods compress video to optimize the file, but this ends up sacrificing the quality of your video by the time it gets posted. To make certain that you are uploading the highest attainable quality video on Instagram, you will need to use the best camera, upload on a solid internet connection (avoiding distraction while posting), and use the right video settings like sizes and dimensions.
Add and translate your subtitles to more than 100 languages with high accuracy